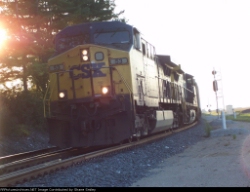 Welcome to the RRPictureArchives.NET contributor site of Shane Smiley.



Welcome to the collection of trains in Rushville, IN. The track that runs through Rushville is the Indianapolis Subdivision and is the main line to Cincinnatti, OH and to the East Coast. We also have some of Indiana's biggest players, like CSX Transportations, Conrail Quality, Inc., Union Pacific, Amtrak (of course), sometimes Burlington Northern Santa Fe (BNSF) and also sometimes Norfolk Southern (NS).

Plus I would be more than happy to tell you the trains that run through here.

The Connersville Local J779, J785, Q360, Q361, Q670, Q671, G317, G393, G395, G410, G426, G458, G459, G460, G462, G465, G466, G552, G683, G684, G685, G687, G691, G704, G722, G742, G764, W911, W918 and Amtrak's #50 and #51. (note: all G trains are not daily runby trains.)

But so far, those are it until further notice. If you would like to visit the websites of the railroads, Click one. http://www.csxt.com, http://www.up.com, http://www.bnsf.com, http://www.amtrak.com, http://www.nscorp.com/.

News updates:(6/27/05) I just got Broadband and I'm going to be working on a live feed of the line. I also got done putting a new antenna up and will be trying to make the feed work better. Plus if there are problems w/ the feed, let me know at scsmiley19@yahoo.com. Thankyou.

(7/22/05) For all those who love this contributor site will love this too, Its history on the line. Enjoy!!!

http://www.k8dti.com/cincy/boindianapolis.htm

(8/8/05) Last night, one of the most awful things to happen. A derailment of an ex-hotbox car fell off the tracks after tripping over the switch.

(8/26/05) Great news to all who love this contributer site. I now have a whole copy of the CSX Louisville Division Timetable No.3. And I will also be making a scan of the Cincy Terminal and the Indy Sub. Though the timetable only goes to the STATE DTC Block and the rest is in the Great Lakes Division. So, check back in a week or two to see if the Timetable is up yet.

(9/8/05) Tell me, have you ever been interested of watching a video of trains? Well if thats the case, then I gonna let you all on a little secret. I am in the makings of the trains of the Indianapolis Sub., which the location are between arlington and rushville. And I am also trying to find a way to get a copy of it out over the internet. It will be between 1 hour-2 hours. If any one knows where i can put movie files and clips at, let me know. THANK YOU!!!

(9/18/05) I spoke to the Trainmaster Tuesday and he told me that Grain Train Traffic was going to increase within 3+ weeks. SO for people living by or close to the Indy Sub., keep a watch for the grain trains.

(11/18/05)Are you ready for the biggest update of this con. site? Starting today at 4:00pm, the biggest update will begin. I'm estimating about 20-50 pictures will be put on.

(12/17/05) MERRY CHRISTMAS TO ALL!!!! AND A HAPPY NEW YEAR!!!!!

(06/17/06) Sorry for not leaving any news on the site here, but I'm back and in a different location. I'm also taking trips up to Avon, IN to my father's house. So, expect some cool and new pics this year.

Check back after certain pictures.

Thank You! Shane C. Smiley.



You may browse my collection of pictures via the menu located on the left hand side of the page. I hope you enjoy the collection and thanks for stopping by!